St. Wenceslas (Svatý Václav) (ca. 907-935)--Patron saint of Bohemia. Prince Wenceslas was executed at the site of the present-day city of Stará Boleslav--on the orders of his younger brother, Boleslav, who took over the Bohemian throne. Boleslav was said to have been especially against "fees for peace" (120 oxen and 125kgs of silver) which Václav promised to the German king. A popular cult arose proclaiming the affable and learned prince Wenceslas as the perpetual spiritual ruler of all Czechs.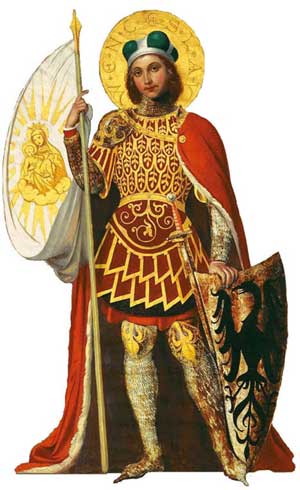 St. Wenceslas Crown is symbols of history of our state as an independent and powerful. This crown was used during the Crowning ceremony from September 1st, 1347, the first time by its creator Charles IV. But it has never been a property of a monarch - the crown was only leased to him. With the beauty of gems, simplicity of shapes makes the crown very special symbol of our independency and proud history. The crown is now put away in St. Vitus Cathedral.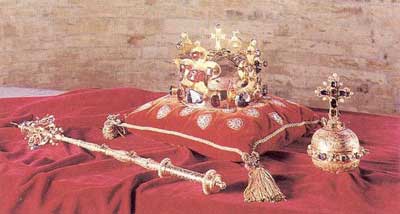 It's worth mentioning that Charles IV have placed a relic (in the cross) on the top of the crown under the sapphire – a thorn from Christ crown.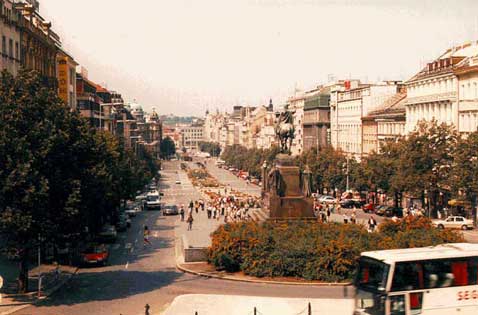 The shopping centre of Prague. In the upper part of the square is the statue of St. Wenceslas with four patron saints of Bohemia (St. Prokop, St. Adalbert, St. Ludmila and St. Agnes) by Josef Vaclav Myslbek.
The horse market, Prague's traditional meeting place, was the scene of a brief thrust of Czech nationalism against the Austrian Empire in 1848, when people named the place Wenceslas Square (Václavské námestí). A statue at the top of the square, depicting the horse-mounted warrior, was erected in 1912.